Plantation Course at Kapalua Resort

You don't have to be PGA Tour star to experience the thrill of the Plantation Course at Kapalua resort. This exciting golf course, which hosts the world's best golfers each January is also accessible to resort golfers looking to experience the thrill of one of the islands' top courses - as well as the luxury and service that is the Kapalua Resort.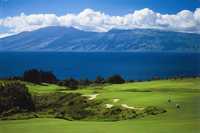 At Kapalua Resort on Maui's northwest shore, golfers can vacation like a PGA Tour star.
The Plantation Course is the jewel of Kapalua, which is located on Maui's northwest shore and stretches from gorgeous mountain peaks to the Pacific Ocean. The resort, a 23,000-acres paradise, features award-winning accommodations, flawless beaches, ancient lava flows and fields of fresh pineapple.
Host of the PGA Tour each January, the par-73, 7,596-yard Plantation has been home to Tiger Woods, Justin Leonard, Ernie Els, Vijay Singh and more. The Ben Crenshaw- and Bill Coore-designed course is grand in scale and unfurls across the resort's natural geographic formations and pineapple plantation fields.
The resort is home to Kapalua Golf Academy, a state-of-the-art instructional facility, which can offer assistance to both beginners and scratch golfers.
Golf course details
Holes: 18
Designed by: Ben Crenshaw, Bill Coore

Public/Private: Resort
Year opened: 1991
Golf Season: Year round
Guest Policy: Open
Tee times welcomed: Yes
Fairways: Bermuda Grass
Greens: Bermuda Grass
Facilities
Pro in house: Yes
Driving range: Yes
Rental clubs: Yes
Rental carts: Yes
Green fees price ranges
Week days: $249 - $329
Weekends: $249 - $329
Course policies
Metal spikes allowed: No
Dress code: Proper attire is required.
Credit cards accepted: VISA, MasterCard, Amex, Discover Welcomed
Length, slope and rating for each tee
| Tee | Par | Yardage | Slope | Rating |
| --- | --- | --- | --- | --- |
| Tour | 73 | 7596 | 144 | 77 |
| Resort (W) | 74 | 6077 | 135 | 75.4 |
| Resort | 73 | 6077 | 127 | 70 |
| Regular | 73 | 6701 | 134 | 72.8 |
| Championship | 73 | 7284 | 140 | 75.5 |
| Regular (W) | 74 | 6701 | 146 | 80 |
| Forward | 73 | 5181 | 116 | 65.5 |
| Forward (W) | 74 | 5181 | 124 | 70.2 |
| Combo Championship/Regular | 73 | 6938 | 137 | 74 |
| Combo Regular/Resort | 73 | 6407 | 130 | 71.6 |
| Combo Regular/Resort (W) | 74 | 6407 | 139 | 77.9 |
| Combo Resort/Forward (W) | 74 | 5544 | 129 | 72.5 |